ReefLED® Series
Smart. Safe. Efficient.
Red Sea's ReefLED series is the result of years of research into the lighting needs of corals.
Uniquely designed with a light intensity and spectrum that is 100% utilized by the corals, ReefLED lights are 100% reef-safe & 100% REEF-SPEC®, providing optimal growth, vivid colors, and an elegant gentle shimmer throughout the aquarium.
At the heart of each unit is a single, compact LED array, that includes a multi-wavelength 23,000 Kelvin REEF-SPEC Blue (a proprietary blend of blue, violet and ultraviolet LEDs), together with 9,000 Kelvin White, and a separate 3W channel for moonlight. This array enables a wide range of REEF–SPEC light that will please both you and your corals.
ReefLED lights also include hollow optical-glass lenses that ensure a homogenous light spread with REEF-SPEC PAR values throughout the aquarium, without hotspots or areas with insufficient light for coral growth. 
All ReefLED lights are equipped with a built-in Wi-Fi that allows total control via ReefBeat smart aquarium app (which controls all Red Sea devices). The app includes pre-set lighting programs, along with additional features such as sunrise/sunset effects, lunar cycle moon light, random clouds and even an acclimation program for new installations.
Features
REEF-SPEC®

 

light output for optimal coral growth and coloration
Homogenous light with a gentle shimmer
Reef-safe dual-channel color setting plus dedicated moonlights
ReefBeat®

 

app for easy set-up, operation, monitoring and notifications
Anti-glare recessed lens
 

Optimal coral growth

Reef safe

Easy setup

Wi-Fi

App operated
Reef-safe PAR distribution
ReefLED is Reef-safe as it provides ideal PAR values throughout the aquarium, without hotspots or areas with insufficient light for coral growth. The PAR distribution map shows the actual PAR levels as they vary throughout the cross-section of the aquarium.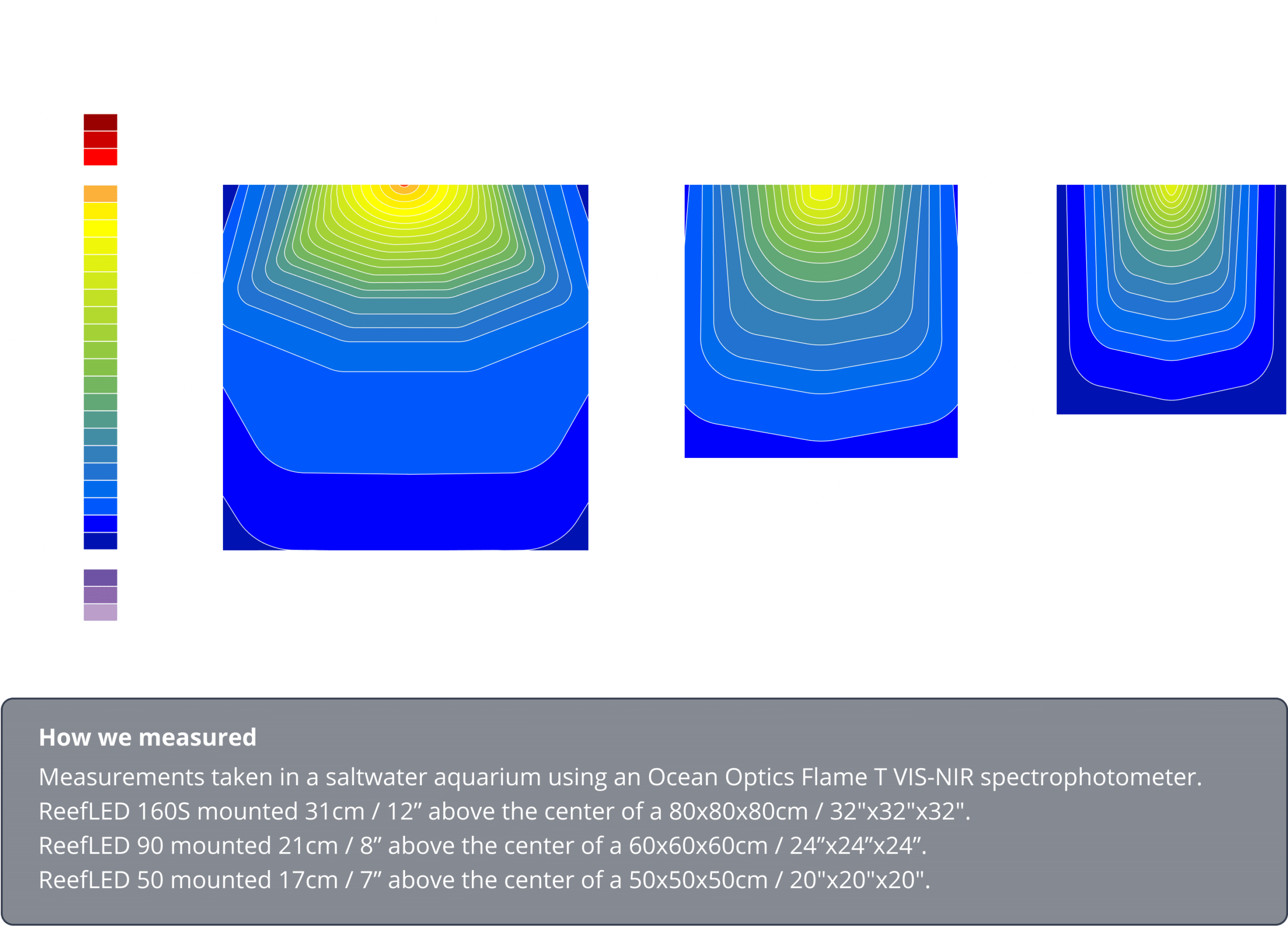 Using PAR measurements only to determine light quality or compatibility of a specific light unit for coral photobiology can be misleading. The
PAR
measurement was developed to measure the
P
hotosynthetic
A
ctive
R
adiation of plants that is within the visible light region (400 -700 nm). 
The Photosynthetic Utilized Radiation or PUR that is relevant for optimal Zooxanthellae photosynthesis is between 360- 480 nm which starts outside the range of visible light (measured by PAR meters) in the UV region and continues into the blue part of the visible light range.
PUR cannot be measured directly but must be calculated by isolating the PUR wavelength intensity data for each wavelength from radio-spectrometer analysis. 
The REEF-SPEC Blue channel of the ReefLED is 100% PUR so for this channel the PUR will actually be slightly higher than the measured PAR due to the UV wavelengths that the PAR meter cannot detect.
The 8000K White of the ReefLED has a strong blue peak in the PUR spectrum as well as wavelengths across the whole visible light spectrum and therefore has a PUR of 45% of its PAR.
The actual PUR output of the ReefLED will vary according to the combined settings of the Reef-Spec Blue and White channels.

Recommended usage by tank size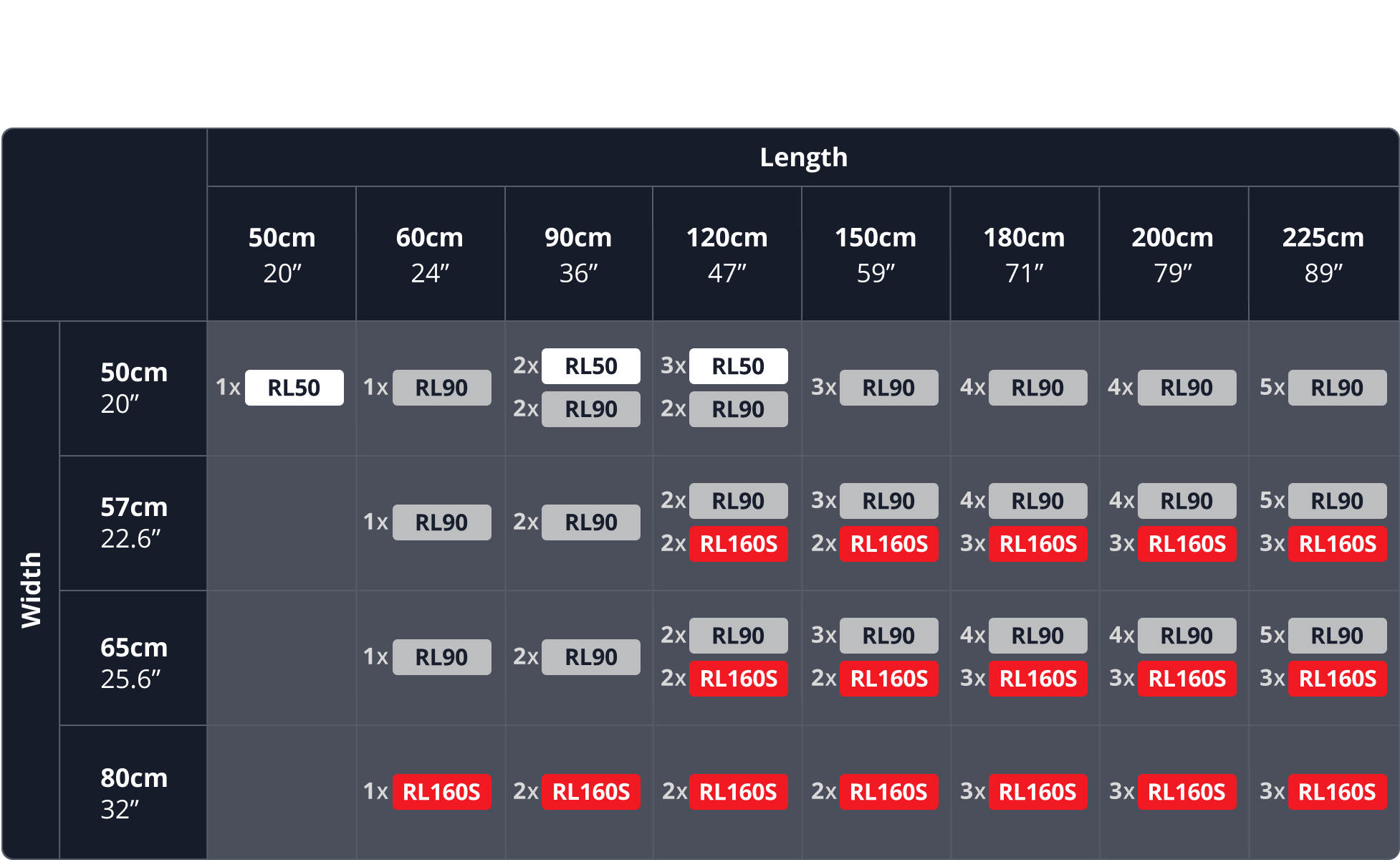 App Features